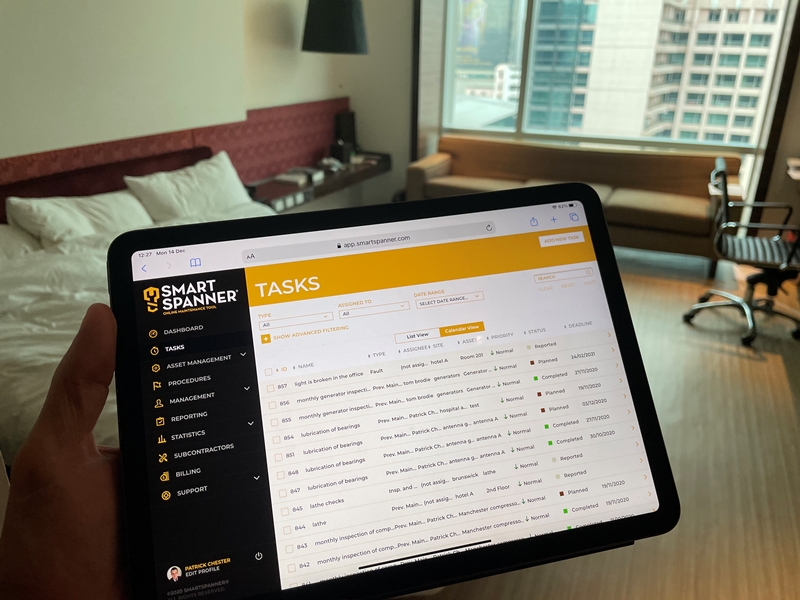 What is CMMS?
Computerised Maintenance Management System (CMMS) is a software application designed to manage maintenance work for companies. This includes work order scheduling, team members, assets and other related resources. Assets are a piece of machinery or equipment or within the scope of facilities management, could be a room, area or a building.
The core function of a CMMS is creating works orders and assigning each works order with an asset, a technician and a due date. This deals with the what, when and who of maintenance and importantly starts to track and log work done.
Using software to manage maintenance, ensures nothing is missed and your team stay informed of requirements. Keeping a log of activity allows for improvements in maintenance effectiveness and productivity. The use of mobile apps and cloud software can allow easy management of multi-site companies or remote workers.
To make the data more informative, tasks are categorised into types such as; preventative maintenance, breakdowns, inspections, health and safety etc. This allows reporting tools and alerts to show insights into the activity types and demands on the organisation. Using the data collected in a CMMS application can support or drive key decisions and strategies for maintenance and asset life.
One of the key benefits of a CMMS system is alerting its users to new tasks and assigning responsibility to users. This clear task ownership allows teams to work effectively.
CMMS applications have many more in-depth features such as; tracking costs, response times, subcontractors, spare parts, condition monitoring, automatic alerts, email reminders, work procedures and check lists. The complexity of the CMMS system should reflect the organisational needs and how advanced the maintenance strategy or requirements are.